- Aangepaste LED

-
5050IR83FR63C
830 nm ir led & 630 nm rode led .3528 SMD LED kunnen ook worden verpakt met 2 chips LED binnenin. Maar ooit hebben we voor onze toepassing een aantal superheldere of een krachtige LED nodig, zodat we een grotere kale matrijs nodig hebben in de SMD LED-behuizing. Vergelijk met 3528 SMD LED, 5050 SMD LED-behuizing kreeg een groter formaat. Wat betekent dat het een betere verwarmingsprestatie heeft dan 3528 SMD LED. Er zijn 6 pinnen voor de LED-kleurregeling. Maar omdat deze LED slechts 2 chips erin heeft, kunnen de twee middelste pinnen de verlichting niet regelen. Heb je ook een aantal aangepaste LED's nodig zoals deze LED als volgt? Neem contact met ons op en laat ons meer informatie over uw vereiste weten, wij zullen dit voor u doen! 2 chips 5050 smd led Er zijn 3 posities in de 5050 SMD LED voor de LED durven sterven. Maar voor sommige toepassingen is er gewoon behoefte aan met 2 chips erin. Aangepaste LED's zijn beschikbaar in onze fabriek, dus in dit geval kunnen we het verpakken met 2 chips erin, rood + IR. Zoals u op de afbeelding kunt zien, is de middelste positie leeg, wat betekent dat we er geen LED-chip in hebben gestopt.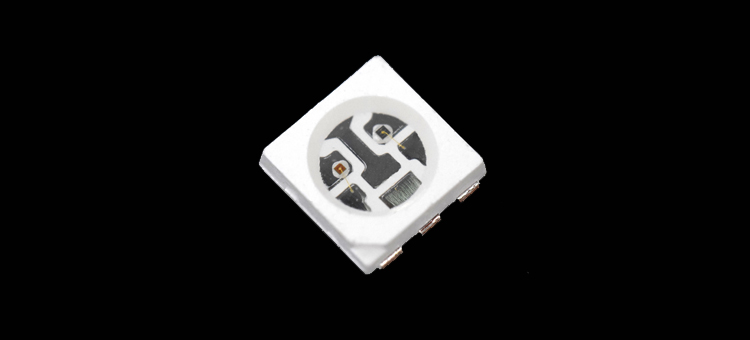 - Size: 5.0*5.0*1.3mm

- Chip Number: 2 chips

- Color: UV+IR

- Type: Surface mount device

- Chip brand: Epistar

- Polarity mark cathode

- Different color are available

- Different wavelength are available

- Warranty: 5 Years


- RoHS, REACH, EN62471


- Uniform light output

- Long life-solid state reliability

- Low Power consumption


-Anti UV epoxy resin package


-High temperature resistance

- Dimensie Parameters-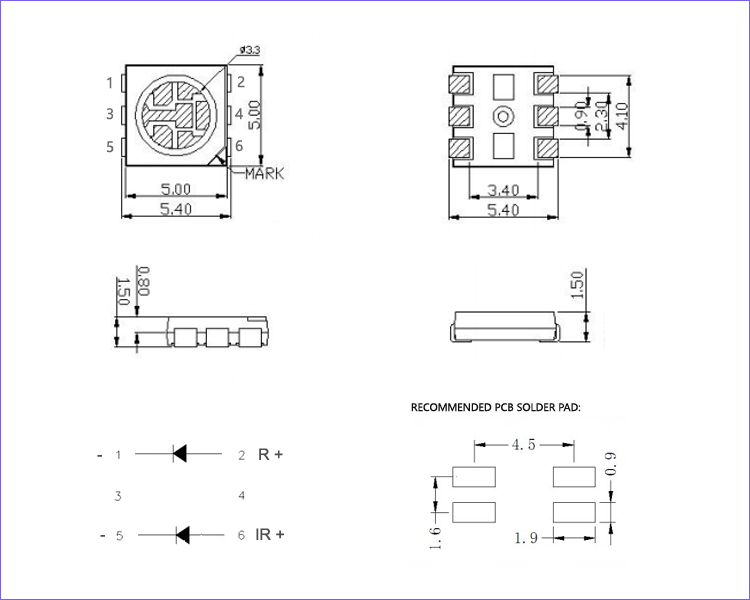 Deze SMD LED-behuizing is ook beschikbaar voor IR LED, UV LED, Blauwe SMD LED, Rode SMD LED, Amber LED ect.
- Kleur uitzenden -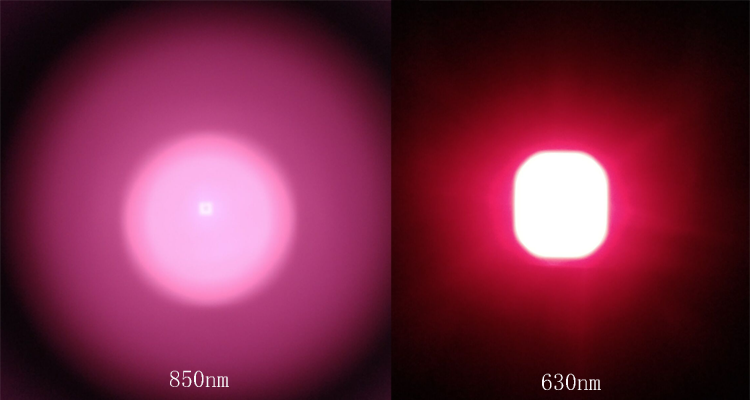 - Elektrische parameters -

Parameter

Symbol

Rating

nm

nm

Power Dissipation

Pd

80mw

90mw

Pulse Forward Current

IFP

100mA

100mA

Forward Current

IF

30mA

30mA

Reverse Voltage

VR

5V

Junction Temperature

Tj

115°C

Operating Tempertature

Topr

-40 - +80°C

Storage Tempertature

Tstg

-40 - +100°C

Soldering Temperature

Tsol

260°C

Electro-Static-Discharge(HBM)

ESD

2000v

Warranty

Time

5Years

Antistatic bag

Piece

2000Bag

*Pulse Forward Current Condition:Duty 1% and Pulse Width=10us.

*Soldering Condition:Soldering condition must be completed with 3 seconds at 260°C
Parameter

Symbol

Min

Typ

Max

Unit

Test Condition

Forward Voltage

630nm

VF

1.9

2.0

2.4

V

IF=20mA

830nm

1.3

1.7

Luminous Intensity

630nm

IV

2.8

3.5

lm

IF=20mA

830nm

8

12

mw/sr

Peak Wavelength

630nm

λP

633

645

nm

IF=20mA

830nm

820

830

838

Half Width

630nm

Dl

18

nm

IF=20mA

830nm

25

Viewing Half Angle

2q1/2

±60

deg

IF=20mA

Reverse Current

630nm

IR

5

uA

VR=5V

850nm

5

*Luminous Intensity is measured by ZWL600.

*2q1/2 is the off-axis angle at which the luminous intensity is half the axial luminous intensity.

*lD is derived from the CIE chromaticity diagram and represents the single wavelength which defines the color of the device.
- Gouden draadverbinding -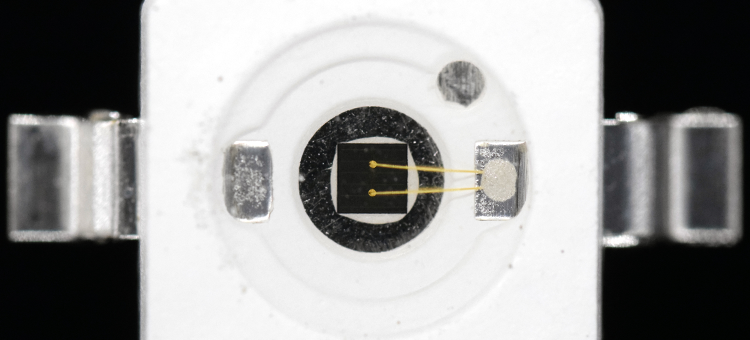 - Inpakken -

* We verpakken het met vacuümverpakking na tape het als een haspel
- Toepassing -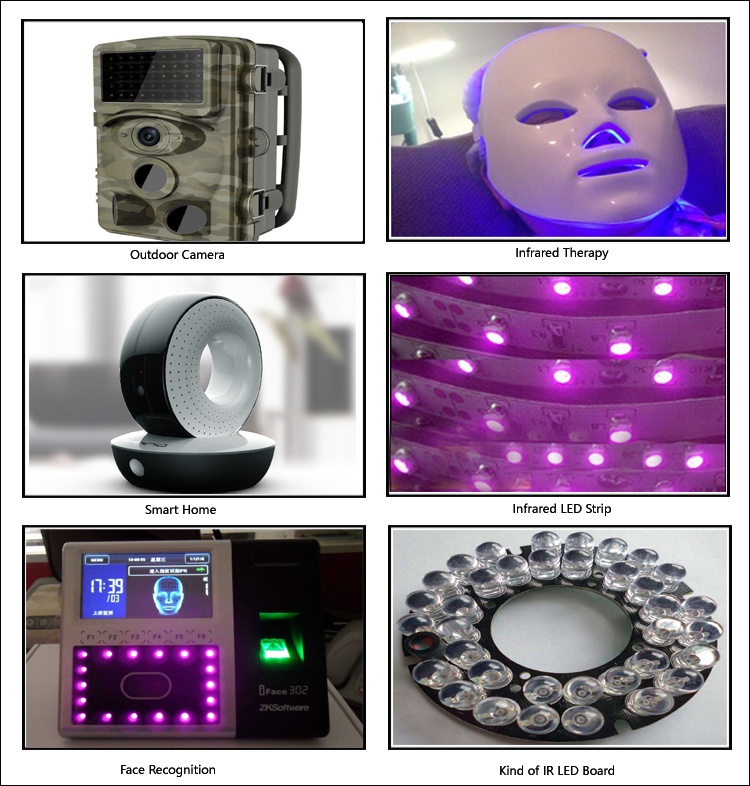 - Gerelateerde 5050 LED -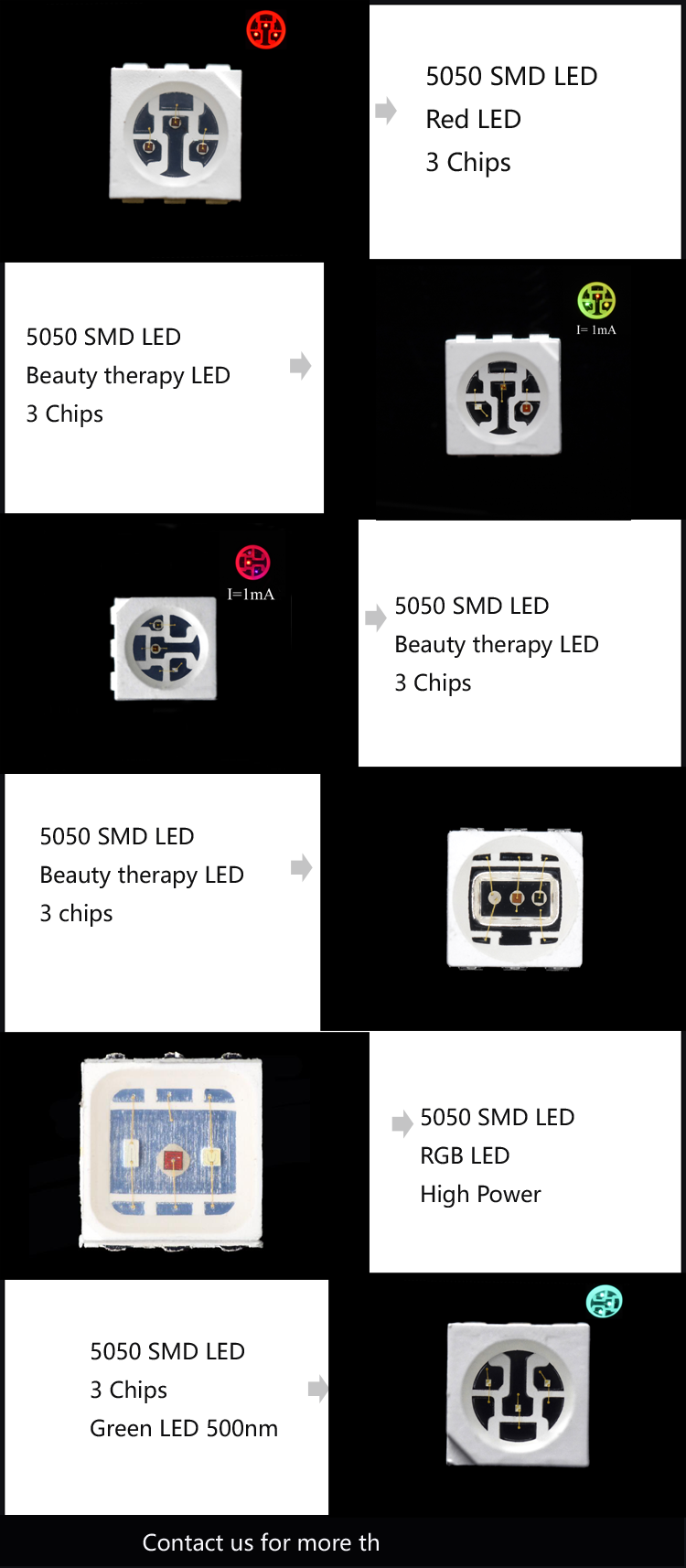 - Productie -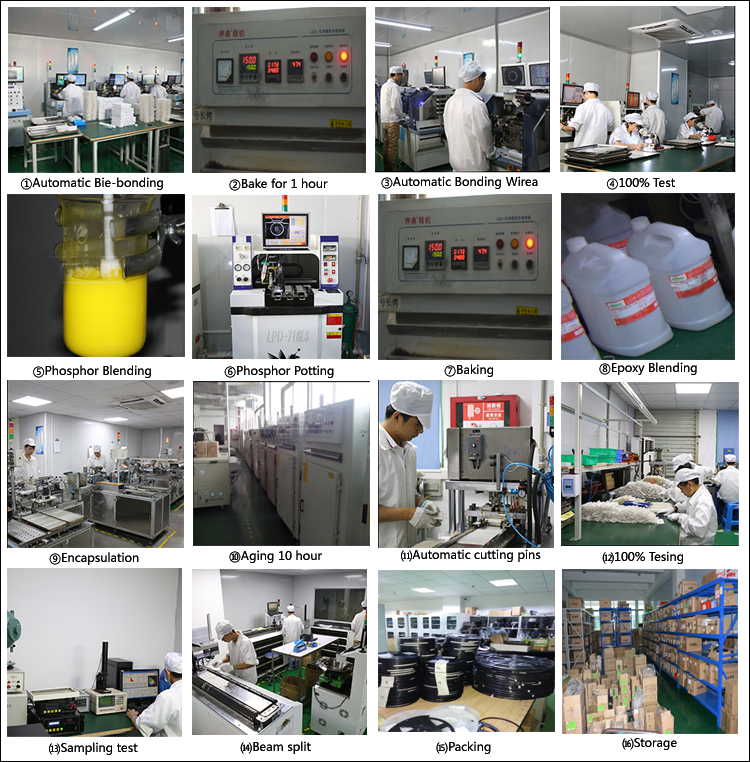 - SMD LED Gebruik -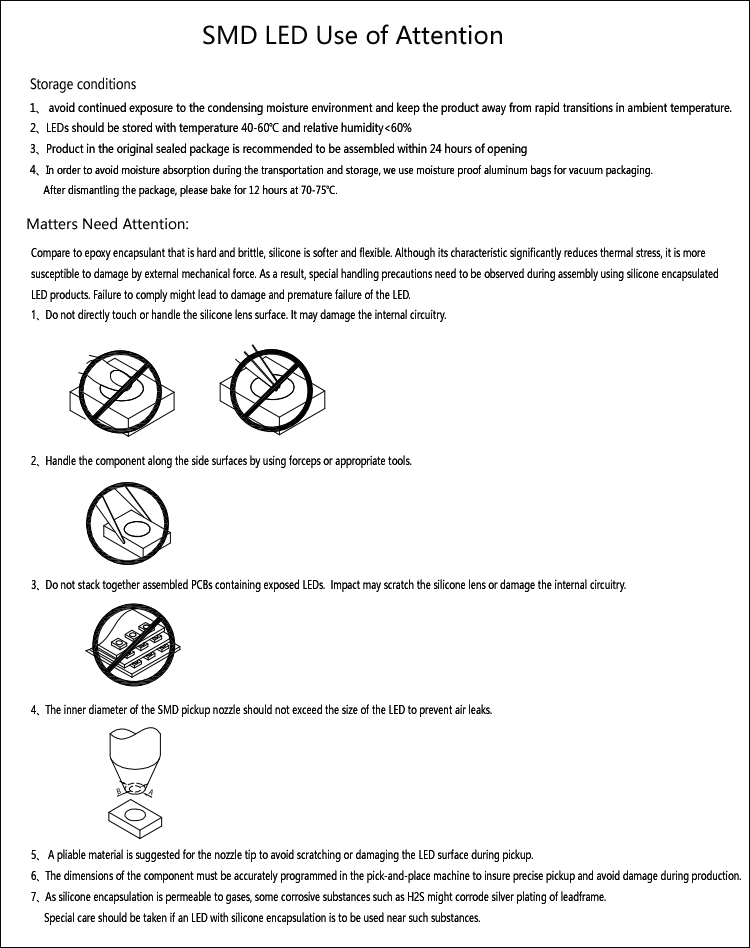 Product Categorie : Aangepaste LED